Take THAT NaNoWriMo 2011!
26 Saturday Nov 2011
50,045 …
Not that I'm anywhere close to done with the story, of course. The challenge ends on November 30, and I will continue working on A Goat Walks Into A Bar until that day. But for today … I'm done. Giving the fingers and wrists a break.
Total words for the day:  7,656
WHEW! That's a new record for me. And for those of you who like graphs (and, really, who doesn't?!)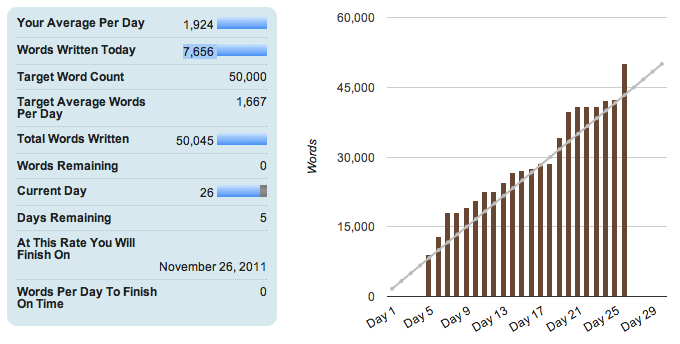 Good luck fellow WriMos! Keep those words coming!
UPDATE: Bummer … the NaNo word counter and the Open Office word counter are … off … in their favor. So, I still have 1200 words to go  😛
But that will have to wait until tomorrow 'cuz this writer is FRIED!